Hi there, fellow farming aficionados. If you're still scratching your head about sustainable and regenerative agriculture, this guide's for you. They're both eco-friendly options, but they function in distinct ways. Let's get into the nitty-gritty details.
Sustainable Agriculture
What It Is
Sustainability is about maintaining equilibrium. You're keeping the existing soil, water quality, and ecosystems stable for future generations to farm.
Core Philosophy
Based on the principle of "sustain what you have," sustainable agriculture focuses on minimizing negative environmental impacts.
Methods
Crop Rotation: The regular rotation of crops is crucial. Each crop type takes different nutrients from the soil; switching them out balances the soil's nutrient profile.
Limited Chemicals: Chemicals aren't totally banned but are used sparingly. Pesticides, if applied, are often eco-friendly or less harmful types.
Controlled Irrigation: Water use is a big deal. Systems like drip or sprinkler irrigation minimize waste, concentrating water where it's most needed.
Technology Used
GPS-based machinery and soil testing often help in precise planting and harvesting, ensuring minimal waste.
Goal
The aim is straightforward: Don't harm the future. You want your kids and their kids to farm the same land without degradation.
Drawbacks
It's a form of equilibrium, but sometimes a precarious one. The focus on maintaining current conditions can limit long-term growth or soil improvement.
Regenerative Agriculture
What It Is
Think of regenerative farming as sustainable farming 2.0. You're not just preserving the land; you're actively improving it.
Core Philosophy
Regenerative agriculture functions on the idea of "make it better than you found it." It seeks to repair damage from past farming practices.
Methods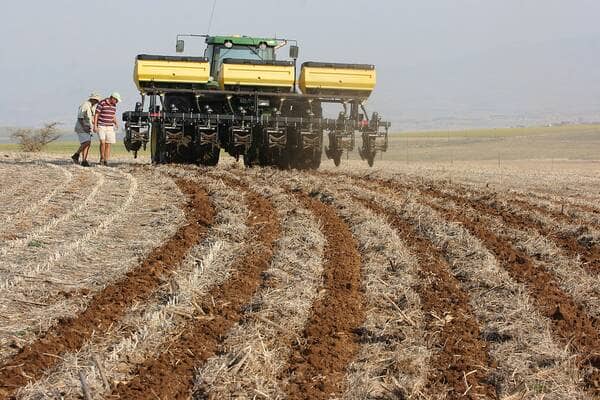 Cover Crops: Plants like legumes or mustard are grown during the off-season. They protect the soil from erosion and add valuable nutrients.
No-Till Farming: This method preserves soil structure, retaining moisture and encouraging worm activity, which naturally aerates the soil.
Composting: Organic waste, from kitchen scraps to crop residues, gets turned into a nutrient-rich addition for soil.
Livestock Integration: Chickens, cows, or goats are used to graze on the land. Their manure is a natural fertilizer that enriches soil quality.
Technology Used
Advanced soil testing and microbial analysis often guide regenerative practices, ensuring the most beneficial activities for specific soil types.
Goal
You're not merely avoiding harm; you're actively enhancing. Soil gets richer, water quality improves, and local wildlife may even come back.
Drawbacks
Patience is key. You might see a drop in yields initially as you switch to these labour-intensive methods. The long-term payoff is high but requires committed effort.
Key Differences
Impact on Soil: Sustainable: The aim is maintenance. Keep the soil as is without causing degradation. Regenerative: Think rejuvenation. Transform the soil into a richer, more fertile version.
Techniques: Sustainable: Limited reliance on chemicals, technology-guided precision farming. Regenerative: Prioritizes natural systems like composting, often influenced by local ecosystem dynamics.
Longevity: Sustainable: It's about the now, but also with an eye toward the future. Regenerative: This is a long-term investment in future farming generations.
Complexity: Sustainable: Easier to implement, fewer radical changes. Regenerative: Requires a deep dive into soil science, plant biology, and local ecological systems.
The Bottom Line
Sustainable agriculture keeps the wheels turning without damaging the road. Regenerative agriculture not only does that but also repairs potholes and enhances the road for everyone. Your choice depends on your vision, the effort you're willing to invest, and the legacy you wish to leave behind. Happy farming!