The intertwined but seldom heard stories of Bamfords, Kverneland, and JCB form a compelling narrative of innovation, growth, and cooperation in the agricultural and construction machinery industries. From humble beginnings to global recognition, each company has made a profound impact on their respective sectors, leaving a lasting legacy of technological advancement.
This article takes you on a journey through the histories of Bamfords, Kverneland, and JCB, exploring how they shaped the landscape of agricultural and construction equipment.
Bamfords: A Legacy of Ingenuity (1871 – 1980)
Founded in 1871 by Henry Bamford in Uttoxeter, England, Bamfords began as a manufacturer of water pumps, taps, and agricultural machinery at the Leighton Works on Pinfold Street.
Henry Bamford's innovative spirit and dedication to quality craftsmanship soon propelled the company to prominence in the agricultural sector. Their diesel engines and other farm implements such as trailed grass rakes, fingerbar mowers, potato diggers and balers gained popularity for their reliability and efficiency, solidifying Bamfords' position as a reputable manufacturer.
The early 1900's to the 1940's was Bamfords most popular period- they employed around 500 people and it was not uncommon to see 50 wagon loads of implements leaving the factory each day to all parts of the world.
Bamfords manufacturing success in the early 1900's lay in part to the large cast iron foundry they built, called the Leighton ironworks, this enabled them to create any part they needed in-house at a fraction of the cost of bought parts.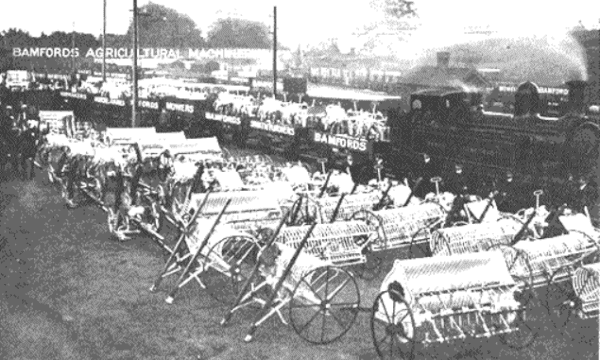 A tramway was built through the foundry to take the molten metal to the casting moulds. At this period it was not uncommon for around 12 tons of metal to be melted each day. However in the later part of the 20th century, implements made from cast iron become less popular as it was more brittle than the newer type machined steel parts.
The 1960's saw Bamfords importing and rebranding ploughs from Kverneland- Norway, combines from Claeys– Belgium and opening a section of their newly built (1961) casting foundry to outside customers in the automobile and transmission industries.
Despite their early successes, Bamfords faced challenges in the latter half of the 20th century. The company went into liquidation in 1980, marking the end of an era for the original Bamford enterprise.
Kverneland: Pioneering Excellence (1879 – Present)
Across the North Sea in Norway, another visionary, Ole Gabriel Kverneland, founded Kverneland in 1879. Kverneland's journey began with the revolutionary Model A plough, designed to overcome obstacles in the field with its automatic trip mechanism. The Model A plough's success garnered international acclaim and set the stage for Kverneland's expansion into a leading agricultural machinery manufacturer.
In 1966 Bamfords machinery acquired the rights for the sole importer of Kverneland ploughs into the UK. These ploughs were painted yellow and were labelled as Bamford Kverneland ploughs. This joint venture lasted from 1966 to 1975. Kverneland ploughs exported to the UK after 1975 were the company's usual red-painted implements.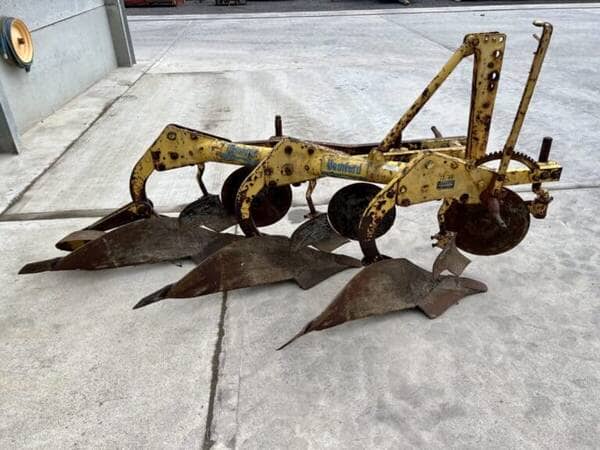 Through decades of dedication and continuous improvement, Kverneland developed a wide range of innovative implements and machinery, becoming a global force in the agricultural sector. The company's commitment to quality and cutting-edge technology earned them a reputation for reliability and efficiency among farmers worldwide.
JCB: From Split to Soaring Success (1945 – Present)
Joseph Cyril Bamford, grandson of the founder of Bamfords machinery- Henry Bamford, embarked on his own entrepreneurial journey in 1945, splitting from the original company to establish JCB – J C Bamford Excavators Ltd. Inspired by his grandfather's legacy, Joseph Cyril Bamford, commonly known as "Mr. JCB," focused on manufacturing earthmoving equipment.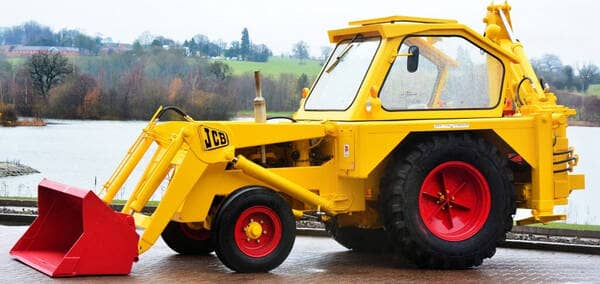 With the iconic "Backhoe Loader" as its flagship product, JCB quickly gained recognition as a leader in the construction equipment industry. The company's commitment to innovation and groundbreaking designs allowed them to expand their product range and achieve global success.
Cooperation and Continuity: JCB's Acquisition of Bamfords' Legacy (1989 – 2008)
In a remarkable twist of fate, JCB stepped in to carry the torch of Bamfords' legacy. In 1989, JCB purchased the Pinfold Street site in Uttoxeter, where Bamfords once thrived. This acquisition allowed JCB to produce earthmoving equipment as part of their Heavy Products division until 2008.
The story came full circle as JCB, under the leadership of Joseph Cyril Bamford, continued to build upon the family's heritage of innovation. The acquisition of the Pinfold Street site in Uttoxeter served as a symbol of continuity and a testament to the enduring impact of Henry Bamfords' legacy.
The stories of Bamfords, Kverneland, and JCB are intricately woven together, representing the unwavering spirit of innovation and perseverance in the agricultural and construction machinery industries. Each company's unique journey, from Bamfords' ingenuity to Kverneland's pioneering excellence and JCB's soaring success, showcases the transformative power of dedication, cooperation, and technological advancement. As these companies continue to shape the future of their respective industries, their legacy serves as an inspiration to all those who follow in their footsteps.